Biomass Resources
Biomass in biological terms refers to organic plant matter that can be turned into fuel for energy. It is renewable and sustainable. For instance, it can be used to generate electricity and replace fossil fuels.
Read Also

Renewable Energy Sources
Materials like wood, agricultural wastes, and municipal wastes can be recycled and used as sources of biomass fuel. Biomass can be burned directly or converted into biofuels like methane and ethanol. Biomass comprises elements like hydrogen, carbon, nitrogen, and oxygen, as well as certain types of atoms and metals.
The residues of biomass are large and under-exploited potential energy resources and present many opportunities for better utilization.
The two main biomass resources are as follows:
(a) Energy Crops: It includes wood for burning, and agricultural crops (plant for fermenting to ethanol and crop seeds for oils).
(b) Wastes: The waste results from nonenergy uses of biomass fuels and are:
Wood residue
Crop wastes, wheat, and maize, rice husk, sugar cane bagasse, straws, forestry
Animal waste, industrial waste, municipal solid waste (MSW), Commercial waste, etc. residues, etc.
Aquatic and marine biomass.
Environmental Impacts of Biomass
Here are some simplified explanations of the environmental impacts of biomass:
Using biomass requires a lot of land and water resources.
Harvesting biomass can lead to soil erosion and water runoff.
Gathering crop residues for biomass energy results in the loss of important nutrients.
Growing energy crops can disrupt the habitat and food sources of wildlife.
Converting biomass into energy can cause air and water pollution, as well as other hazards like fire.
The shift towards biomass can affect employment opportunities and contribute to health and safety issues.
Removing trees for biomass production negatively impacts wildlife populations.
Planting fast-growing trees for biomass reduces the diversity of plants and the habitats of many wildlife species.
Constituents of Biomass Materials
Here is a simplified explanation of the constituents of biomass materials:
(1) Cellulose: It is the main component of wood and other biomass materials. It makes up about 40-50% of wood and is a repeating structure of glucose molecules.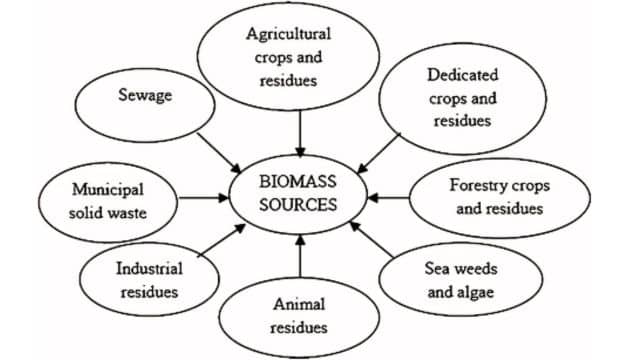 (2) Hemicellulose: This is the second most abundant constituent of wood, comprising about 20-30%. It consists of short, highly branched chains of sugars.
(3) Lignin: It is a non-carbohydrate component of wood, accounting for 20-30% of its composition. Lignin acts as a binder, holding the cells together and providing strength to the structure. Plants with lower lignin content tend to have weaker and softer stems.
Advantages of Biomass Resources
The utilization of biomass for energy has the following advantages compared to fossil fuels :
It contains condensed carbon, hydrogen, and oxygen molecules.
The rise in atmospheric temperature by 0-5 °C is reduced because of low GWP, keeping the environmental balance.
Ethanol from waste can be used as a biofuel.
The waste disposal problem is reduced.
Rural development is encouraged.
Disadvantages of Biomass Resources
The utilization of biomass for energy has the following disadvantages as compared to fossil fuels :
Lower thermal contents than fossil fuels.
Higher moisture contents.
Low bulk density.
Higher transportation cost
Feeding difficulty in the system
Applications of Biomass Resources
Here are five uses of biomass resources:
Bioenergy: Biomass can be used as a renewable source of energy through various processes such as combustion, gasification, or anaerobic digestion. It can be converted into heat, electricity, or biofuels like ethanol and biodiesel.
Bio-based Products: Biomass can be utilized to produce a wide range of bio-based products. For example, it can be transformed into bio-based chemicals, plastics, fibers, and materials used in various industries, reducing the reliance on fossil fuel-based products.
Animal Feed and Fertilizers: Biomass residues, such as crop residues and byproducts from the agricultural and forestry sectors, can be used as animal feed or processed into organic fertilizers. This helps in reducing waste while providing valuable nutrients for animals and plants.
Bioremediation: Certain types of biomass, such as plants and microorganisms, have the ability to remediate or clean up contaminated soils, water, and air. This process, known as bioremediation, utilizes the natural properties of biomass to break down or absorb pollutants.
Sustainable Materials: Biomass can be used as a sustainable source for the production of construction materials, such as timber for building structures or fiberboard for furniture. These materials can help reduce the environmental impact associated with traditional construction and manufacturing processes.
Frequently Asked Questions (FAQs)
What is biomass?

Biomass is the fuel developed from organic matter waste of living organisms like plant waste, animal waste, forest waste, and municipal waste.

What are the five things that make up biomass fuel?

Scrap lumber, forest debris, certain crops, manure, and various types of waste residues can be used as biomass materials. These organic sources can be processed and transformed into biomass fuel or converted into other forms of renewable energy. By utilizing these resources, we can reduce waste and generate sustainable energy.

What is the disadvantage of biomass?

If crops are no longer grown then there wouldn't be any agricultural wastes found. If there's a demand for biomass then harvesting methods need to be developed.
Read Also: